Dr. Conrad Fenris, whose real name is Conrad Haberlind is a doctor at Melissa McCall's hospital. He is played by John Posey, Tyler Posey's dad.
He is a werewolf mythology expert, though he has tried to suppress that information by changing his name. Scott McCall and Stiles Stilinski track him down in Teen Wolf: Search for a Cure. The boys are unsuccessful at getting any help from Dr. Fenris and in desperation try to break into his house for answers. When they are caught in the act Scott is able to talk the gun-wielding doctor down and persuade him to answer some of their questions.
As they talk, the doctor reveals that he met one of Derek Hale's relatives in Wisconsin. She had been shot by an arrow which was claimed to be a hunting accident by the people that brought her in. After he removed the arrow the wound healed as if it had never been there. The incident made him aware of the existence of werewolves and those that hunt them, and drove him to an obsessive study of werewolves. But despite the depth of his knowledge about werewolves he is not aware of any cure for the condition.
By the time Scott and Stiles meet the doctor he has come to doubt the existence of werewolves, question his study and himself. The boys are disappointed that Dr. Fenris can not help them, but sympathetic to what the doctor has been through. As they leave Scott quietly lets the doctor know that he is a werewolf and that all of his study was not just a silly obsession.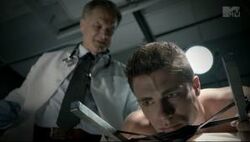 He also appeared in the episode Wolf's Bane where he has a look at Jackson Whittemore's scratches on his neck. He also tells him he has "aconite poisoning" which heightens Jackson's suspicions about Scott being a werewolf.
His last name, Fenris, is a form of Fenrir, who was a monstrous wolf from Norse mythology foretold to kill the god Odin during Ragnarok.
He is the first person in the series (Teen Wolf: Search for a Cure) to mention another type of werewolf, an Omega.
He claims that people who kill werewolves (Hunters) do this because they're afraid of something more powerful than themselves.
"God I hate that Oath." — Dr. Conrad Fenris to Stiles and Scott about the Hippocratic Oath in Teen Wolf: Search for a Cure Episode 5
"Maybe there are some people who miraculously heal themselves; have heightened senses: perfect sight or sense of smell. But Werewolves? It's not possible." — Dr. Conrad Fenris to Scott McCall when asked if he still believes in werewolves in Teen Wolf: Search for a Cure Episode 6