Derek Hale is one of the main characters on MTV's Teen Wolf. He was born a werewolf and currently the Alpha.
Biography
Derek Hale was born November 07, 1988. He comes from a family or pack of werewolves and inherited his werewolf nature from his parents.
As a teen, Derek lived in Beacon Hills, California with his family. While still in high school, he entered into a relationship with Kate Argent. He was unaware that Kate was only sleeping with him to get close to his family.
She later, with the help of several conspirators, orchestrated an arson attack at the Hale House in which most of Derek's family was killed.
His uncle, Peter Hale who was badly burned, got out while the others in the home died. Derek and his sister Laura Hale were at school when the fire was set. The fire is the seminal event in the young man's life defining much of his behavior throughout the first season of Teen Wolf.
Derek has a triple spiral or triskelion tattoo on his back.
Prior to the events in the first episode, Wolf Moon, Derek was living on the other side of the country. According to his New York driver's license he lived in Brooklyn, New York. He returns to Beacon Hills after the death of his sister.
Scott McCall initially blames Derek for biting him and turning him into a werewolf. Derek claims he was not responsible, and that another werewolf The Alpha is the one who bit Scott. Derek assumes the role of a mentor to Scott, explaining what it means to be a werewolf and how to control his new instincts and nature. He also attempts to keep Scott away from The Alpha, explaining that the beast wants Scott to kill with him and join his pack. Derek tells Scott that if The Alpha finds him, Scott will have to kill with him or be killed.
Kate Argent returns to Beacon Hills seeking the Alpha in Magic Bullet. She is part of a family of werewolf Hunters and shoots Derek in the arm on her first night back in town. The bullet was tipped with Nordic Blue Monkshood (wolfsbane). The bullet poisoned him, bringing him near to death. Scott helped to save his life by stealing another of the bullets from Kate's bag during dinner with the Argent family. Derek cured himself by burning the wolfsbane from the bullet and putting the ashes on his wound.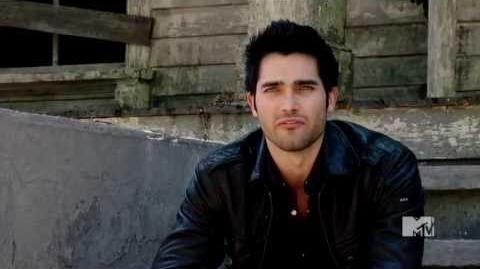 Lead hunter, Chris Argent, believed Derek knew the identity of the Alpha and ordered that he be tracked in hopes he would lead the hunters to The Alpha, but when Derek revealed to Kate that he did not know, she tried to kill him (contrary to the hunter's moral code to not kill any werewolf not proven to have spilled human blood). In Heart Monitor, Derek was attacked by The Alpha at Beacon Hills High School. The Alpha attacked from behind and lifted him off the ground as gouts of blood poured from his mouth. There was much speculation that Derek was dead after this attack but he returned two episodes later.
At the end of Lunatic, on the night of the full moon, Derek seemed fully recovered and stopped Scott from attacking Jackson and Allison. Then, the two werewolves fought in the woods until Scott regained control of himself. Scott asks if there is a cure and Derek says he has heard of one, killing the Alpha responsible for the bite, but that he doesn't know if it is true.
The ninth episode, Wolf's Bane opens with Derek saving Adrian Harris from the Alpha. He is then forced to go on the run from hunters and the law because Scott has told them that Derek is responsible for all the mysterious attacks and claimed that he had tried to kill the young cast during Night School.
Derek ends up hiding at Stiles' house. The pair lures Danny over to help them track down the cellphone responsible for sending a text that led Allison into danger during Night School. Stiles claims Derek is his "cousin Miguel" and uses Danny obvious attraction to Derek to convince the young man to help them hack the cell phone. Danny tracks the text to a Melissa McCall's computer at Beacon Hills Hospital where Derek and Stiles find out the Alpha is actually a fully recovered Peter Hale. The two fight and Peter claims he killed Laura by accident and that all the other killings have been revenge against the men who helped Kate kill their family.
In Co-Captain Derek seemed to have joined forces with his uncle and worked to eliminate Jackson because he had learned Scott's secret. At the end of the episode Derek was captured by Kate and was chained in a cellar beneath the Hale House. She used an electrical device to torture him.
In Formality Kate introduces Allison to the concept of werewolves by showing her Derek on the torture rack. Scott rescues Derek in Code Breaker. They, along with the rest of the gang and Chris Argent, attack the Alpha. The kids burn and cripple Peter but it is Derek, over the protestations of Scott, who delivers the death blow, slashing his claws across the Alpha's throat killing him and assuming his position and powers.
Derek is later confronted by Jackson Whittemore who demanded to be bitten and turned into a werewolf. Derek advances toward the boy and shows his fangs but the scene cuts away without revealing if Jackson got his wish.
As the new Alpha, Derek is focused on building a new werewolf pack in Season 2.
He attempts to recruit Scott but is rebuffed. Derek finds Isaac cowering in a grave and offers him help. Later Isaac seeks him out and requests to join the pack. He forces Scott to watch as the hunters kill an Omega in the woods to show him how dangerous his life would be without a pack. (read more...)
Isaac is taken to jail. Derek shows up and asks Scott to help him break him out. They go to Issac's house and find evidence of his dad's abuse. Derek and Stiles attempt to break Isaac out of jail. (read more...)
Derek seduces Erica into the pack with the promise that his bite will cure her epilepsy and the side effects from her medications. He then focuses on Boyd, an unpopular loner, for the third member of his new pack. Scott confronts Erica, Isaac and Derek in a skating rink. Derek injures him and the wound doesn't instantly heal. (read more...)
Derek is training Isaac and Erica to the point of exhaustion because the hunters are planning something and they have to beware the new creature too. He is trying to keep them alive and trying to teach them everything he knows quickly. He and Stiles get trapped by the creature in the school's swimming pool. He recognizes the creature as a Kanima. (read more...)
After Jackson becomes paralyzed by kanima venom, Derek turns his attention to Lydia as the next likeliest suspect. Once Lydia suffers no ill effects from the venom, Derek is convinced and decides to kill her. Scott says Lydia might simply be immune but Derek argues that he's never seen or heard of anything like that. Scott points out that Derek doesn't know a lot of things like why Jackson's system rejected the bite. After Scott, Allison and Stiles defeat both Erica and Isaac, Derek says he believes that Scott has formed his own pack with his human friends. (read more...)
Derek faces off against Jackson kanima. Derek lands some blows but mainly just tries to stay clear of the creatures claws until Chris Argent shows up and starts shooting. He follows the kanima to a club where it attacks and paralyses several dancers. Danny is among them. Then it's all "panic at the disco" as Derek shows up all wolfed out and uses his claws to slash the kanima's throat. (read more...)
Derek tells Isaac and Erica they need help from Scott and his friends to stop the kanima because it is more powerful than he first thought. After Erica is injured, he breaks her arm to trigger the healing process. Scott proposes a temporary alliance to stop the kanima. (read more...)
Scott works with Derek and Dr. Deaton on a plan to subdue Jackson but when the time comes to implement it, The hunters show up at the warehouse and start shooting. Boyd helps Derek fight the hunters. Derek hears Scott howl and comes to his rescue. He finds him in a room full of wolfsbane vapor. Allison's Mom attacks him with a knife. Derek seems to be overcome by the vapor and she beats him easily and escapes. (read more...)
Derek tries to lock up his pack on the full moon since he hasn't had time to train them to control their shifts. The plan goes badly when all three escape. Lydia subdues him with wolfsbane powder and uses him to bring Peter Hale back to life. (read more...)
Skills
Derek possesses all of the abilities and weaknesses of an Alpha werewolf.
Quotes
"If you say one word...." — Derek to Stiles in Wolf's Bane.
"You want me to teach you, get rid of her." — Derek to Scott in Heart Monitor.
"You wanna do homework or do you wanna not die?" — Derek to Scott in The Tell.
"She's a psychotic bitch helping you kill people." — Derek to Peter Hale in Wolf's Bane.
"You gotta be kidding me..." — Derek's reaction to Scott's howling in Heart Monitor.
"I'm gonna kill both of you! What the hell was that?! What are you trying to do, attract the entire state to the school?!" — Derek to Scott and Stiles in Heart Monitor.
"How about this? Either you cut off my arm, or I'm gonna cut off your head." — Derek to Stiles in Magic Bullet.
"I'm the Alpha now!" — To Scott in Code Breaker
"Start the car, or I'm gonna rip your throat out, with my teeth." — Derek to Stiles in Magic Bullet.
"Everyone wants power." — Derek to Scott in Shape Shifted
Gallery