Teen Wolf Season 3 is filmed in Los Angeles California.
Thus far, the first 12 of 24 episodes are complete.
The first episode debuts on MTV at 10PM EDT on June 3, 2013.
According to Davis, the plot in Season 3 will pick up four months after the events of the Season 2 finale, at the beginning of Scott McCall's junior year of high school.
Davis explains that the gap is designed to allow the characters to recover from the events of Season 2, to allow them to get back to being normal teenagers again before the next supernatural threat manifests.
Cliffhanger elements from Season 2, namely the fates of Boyd and Erica as well as the arrival of the new "Alpha Pack", will be resolved in the first episodes.
Davis has confirmed that The Alpha Pack will drive much of the plot for the season.
Episodes
Edit
While information on Episode titles and running order were released throughout filming, Jeff Davis confirmed information on Episodes 1-8 in a May 6, 2013 interview with E! Online. Episode 1—"Tattoo"
Episode 2—"Chaos Rising"
Episode 3—"Fireflies"
Episode 4—"Unleashed"
Episode 5—"Frayed"
Episode 6—"Motel California"
Episode 7—"Currents"
Episode 8—"Visionary"
On March 27, 2013, Davis told MTV's Remote Control Blog that Episode 9 will be called "The Girl Who Knew Too Much".
On April 25, 2013, Tyler Posey confirmed that Episode 11 is called "Alpha Pact"
  
PLEASE NOTE:

The following is not a complete cast list. These are characters who have already been mentioned by Jeff Davis as part of Season 3 plot lines. This list will be updated once production begins. While it is confirmed that Colton Haynes and Gage Golightly will not return for Season 3, we expect their characters will be shown in flashbacks, photographs etc.. and will remain part of the plot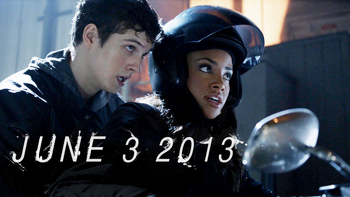 New This Season
Production
Edit
Jeff Davis remains Executive Producer and Head Writer of the show.
MTV's order of 24 episodes for Season 3 is double the 12 episode orders seen for Season 1 and Season 2.
Season 3 marks major changes in the show's production.
After receiving tax credits from the State of California, production moved from Atlanta, Georgia to Los Angeles, California.
In addition to the tax credits, which will reduce the cost per episode, the move is also more convenient for most of the cast and writers as they live in Los Angeles full time.
The change in location means some changes to the sets.
Most of the interiors are shot on a sound stage meaning those sets could be shipped whole to the new Teen Wolf Studio in Northridge, California.
A significant new interior set, Derek's Loft, was designed and built on site.
Exteriors will be different.
Palisades Charter High School will double for Beacon Hills High School.
Various areas around Los Angeles - Griffith Park, The Westlake area etc will double for the Beacon Hills Preserve, the warehouse district and other familiar Teen Wolf locations.
New Teen Wolf locations include Soledad Canyon Road near Acton, California, a mid-century modern motel in Glendale, California and a loft/event space in downtown Los Angeles known as Majestic Halls.
Filming began on December 3, 2012.
Production shut down May 9, 2013 for a three month hiatus and will resume sometime in August 2013.
We have details and photos from the set at our Behind the Scenes page.
The official trailer for Season 3 was released on May 20, 2013.


Leading up to it's release, MTV teased the show with a number of videos.
A promotional tease released on April 14th during the MTV Movie Awards debuted the season's tag line "This Might Hurt".
This was followed by a number of "Teeny Tiny Teases".
Starting on May 9th, 2013, MTV Official released a series of 10 second videos.
The releases came once or twice a day. The videos feature audio and imagery from the show in a disjointed flash frame style.
On May 17, MTV released a 31 second version of the official Season 3 trailer.