Tim Andrew is a British film director, television director and television producer who worked on the MTV series, Teen Wolf.
Andrew moved to the United States from London in 1994. His television directing credits include Black Scorpion, Son of the Beach, Undressed, Mix It Up, and Supernatural.
Andrew has also directed films like Don't Sleep Alone, Lola's Game, and Hard Rock'n.
Teen Wolf
Edit
Aside from Russell Mulcahy, he is the most prolific director on the show, directing 31 episodes from Season 1 to the first half of Season 6.
He and Mulcahy collaborated on the Season 2 finale, Master Plan.
He started off as a supervising producer from 2011-2012, and then, as of 2013, is a co-executive producer of the show.
He also works occasionally as a second unit director for several episodes.
Andrew's daughters, Lily Bleu Andrew (Lori) and Claire Bryétt Andrew (Sydney), have both appeared on Teen Wolf.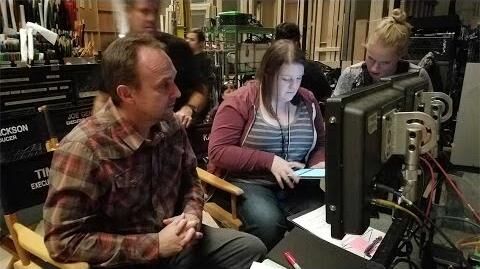 Ad blocker interference detected!
Wikia is a free-to-use site that makes money from advertising. We have a modified experience for viewers using ad blockers

Wikia is not accessible if you've made further modifications. Remove the custom ad blocker rule(s) and the page will load as expected.