DISCLAIMER: THIS IS NOT AN ALLISON BASHING POST.
As you all know, Allison has gone through a huge change since the death of her mother.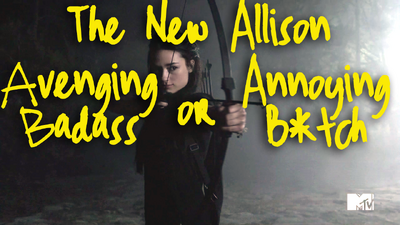 This change has, for some reason, divided the viewers into three teams:
TeamAllison (those who think she's justified)
TeamDerek (those who think Derek's innocent)
TeamSwitzerland (the neutral party)
Reactions on the Wiki are split:
"She is the bitch of course she better not destory derek or hurt other pack.. I bet gerard is the one going to die at the end season better be and Allison your crazy just like your mom and grandpapa.. but i think her father is kinda of kind he isnt the crazy like the whole crazyiest family.."
"Derek needs to die I mean guys you act like Allison is a crazy bitch but he could of just pushed her mom aside not bite the hell out of her"
"I still love Allison, She obviously not herself at the current moment. She lose her true self to the darkness in heart, which I find sad. I don't switch from liking/love characters to hating them. For there action especially when I can understand them, I may not agree with every single thing Allison doing. But I don't hate her for so I'm not going to forsake her because half of the fan base hate her and wants her dead for whatever reason. I love what the writers are doing with her character, her story arc is one the things that make me enjoy show so much."
"You guys need to open your eyes and stop hating on Allison. This isn't her fault. The reason she is going after Derek is because her grandfather is manipulating her into hating him. You guys don't realise that because your too busy pining over how hot or attractive Derek is. Look its not about how good looking a person is, even though this show may come off shallow at times, it more about the emotions people go through. Allison is grieving over her mother's death and before you state how evil or sadistic her mother was, Victoria was her mother nonetheless and she loved her. If this show has done anything is it has shown the flaws and imperfections the characters have. You guys need to see the bigger picture and realise that Gerard has manipulated everything just so he can get control of the Kanima. Stop hating on a character that is going through a confusing and hurting time."
There are so many comments saying that Allison is justified because Derek "killed" her mother that it prompted me to write not only this blog post but this comment as well:
"If you guys are going to defend Allison, saying she's just hurt because she's lost her mother and that she was just being manipulated by Gerard, you might as well start defending Gerard too. Gerard's angry because his daughter was murdered in cold blood and is just trying to kill Derek to avenge his daughter's death. Isn't that the same thing you all are saying about Allison? I smell double standards coming into play."
So which Team are you? #TeamAllison? #TeamDerek? #TeamSwitzerland? Cast your vote and share your opinions below :)