Special Thanks
You know when you're up there getting an award and you're giving your "Thank You! Thank You!" speech and you have this niggling feeling that you're forgetting someone?

Yeah, that happened to me back a couple of weeks ago when I was writing out my thank you note to Dry63 and Ochristi and Maria Trimble.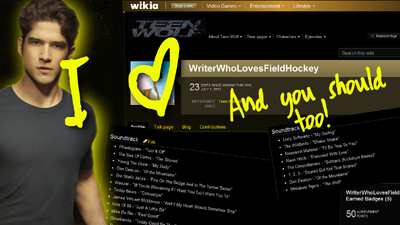 I knew I was forgetting someone and it dawned on me today – WriterWhoLovesFeildHockey!
WWLFH has spent much of the summer researching and adding all the soundtracks to ALL the episodes.
This is the type of work that truly makes the wiki useful to everyone.
Lots of folks jump in to change the sexy stuff, the species designations or superpowers or the quotes, very few are willing to do the hard work of researching and writing up information of this type on ALL the pages.
WWLFH I apologize for leaving you out of that earlier thank you note – you have my thanks for all your hard work.
Paul Rea 21:11, August 15, 2012 (UTC)