Teen Wolf News Archive
You'll always find the very latest news about the show, the cast and what's to come in the Teen Wolf News Section!
Teen Wolf News 102814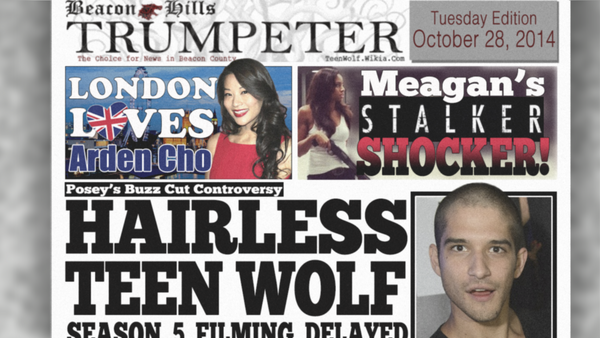 Season 5 Filming Delayed
Looks like Teen Wolf won't begin filming in December as we initially reported.
Back in July, Tyler Posey said he would be back on set for Season 5 starting in December. Apparently, that is no longer the case and the evidence is right on top of Posey's head.
The 23-year-old recently shaved off all his hair and says he's not fit to film, "Scott doesn't have a buzzed head so I've got to wait until this grows back." Even the best hair (chemically enhanced or otherwise) would take a couple of months to grow out - meaning cameras can't roll on Scott until early 2015.
Posey says his buzz of peach fuzz is not to blame for the extended hiatus, "There are other reasons, I'm not sure why." Many have speculated that Dylan O'Brien's work on The Scorch Trials would push the start date but that's not confirmed.
Of course, just because cameras aren't rolling doesn't mean folks aren't working on the show. "We've done a week or so in the writer's room just brainstorming ideas," Showrunner Jeff Davis explained in London over the weekend. "We've got our longest break now in 2 and 1/2 years. So now we have a good bit of preparation."
He didn't give up much in the way of details but did, in a somewhat quiet moment at the very end of this video, suggest that they're trying to get one or both of the Carvers back for Season 5. Also, Linden Ashby says Jeff told him that the Sheriff could see some romance this season and promised the scariest episodes evah.

EDITORS NOTE: There seems to be some misunderstanding (partially my fault from an earlier report) as to how California Film Tax Credits work. Teen Wolf must begin work within the "state's defined fiscal year" to qualify. "The California fiscal year begins July 1 and ends June 30 of the following year." We are currently in the 2015 fiscal year and Teen Wolf can begin filming anytime before it ends and still get their tax credits.
London Loves Arden

Jeff Davis, Dylan Sprayberry and Arden Cho represented Teen Wolf during this weekend's London Comic Con and it seems Kitsune Kira is a big hit across the pond.
EDITOR'S NOTE: The video is shaky and poor quality but it's the best available and we thank the upper very, very much!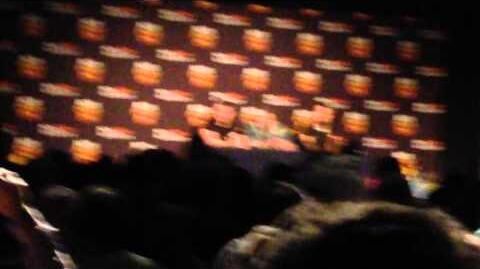 While there were panel questions for all three, most of the audience seemed to focus their queries toward Arden. She also faced some pointed questions about Asian-Americans in the film industry. You'll find that bit at the 18:00 mark in this video.
Kira's popularity doesn't fit with the false "Teen Wolf does diversity wrong" narrative so I expect it will largely be ignored by the internet noisemakers. Still, it is nice to see her get audience support somewhere.

Everybody's Favorite Couple

I love these two. There's no news here, just a happily married couple in Hollywood talking about how they met and fell in love and how they got a puppy from a pound.
Meagan's Stalker Experience

Meagan Tandy's turn as Braeden on Teen Wolf is garnering the right kind of attention for the young actor. She's guest starring in a number of network shows starting this week with STALKER, a new procedural on CBS.
I'm not going to give away too much about the episode - just that it's Halloween-themed and Meagan's character lives in a supposedly haunted house.
I will tell you, based on the other episodes I've seen - guest stars die ugly on this show. Women are burned alive, drowned slowly, shot in the head (on their wedding day), covered in snakes and constantly surrounded by creepy guys hiding in closets.
Good Luck Meagan! Her episode airs Wednesday, October 29 at 10PM on your local CBS station.
You can also catch our Beacon Hills Badass on an upcoming episode of the FOX network show Red Band Society and NCIS: Los Angeles. Check out IMDB for a full list of credits.

No Season 6?

If you watch all the linked videos from London Comic Con, you'll hear Jeff Davis say a few times that Season 5 may be the show's last.
We've heard it before and I dismissed it because every season could be their last since that's how television works. However, we've never seen Jeff beat this drum quite so loudly. He didn't do it in a "save our show" kind of way - just a matter-of-fact "hey guys we may not be back it's all up to the network" kind of way.
Now, if he were an actor talking about not returning to a show, I would assume his people were holding out for more money. That could be the case here too. He says at one point, "It's all a question really of the network, whether they decide it's not too expensive to shoot the show anymore or really whether it's worth it to them. If people keep watching and still like the show we'll keep doing it."
Again though, there was no cajoling "give us more money or else" feel to it. He went on to explain how cable television, while still dependent on ratings for advertising dollars, will also look at other aspects of a show. They'll consider the "added value" that having even a low-rated show on the network might bring.
"In cable it's different. Broadcast networks in America, NBC, ABC, CBS, they rely completely on advertiser-based revenue. In cable you're selling a package. (MTV parent company) VIACOM's package in cable is Nickelodeon, VH1, LOGO, Cartoon Network, and MTV. So you can't not have MTV in that package and they get a subscriber base. So it's advertisers and subscriptions, that's what counts to them. Whereas something like HBO is purely subscription. So ratings in HBO - for a show like Boardwalk Empire, it doesn't do spectacular in the ratings particularly considering how expensive it is, but it's a property that adds value."
If you didn't make it through the somewhat rambling block of text – he's saying that cable networks will keep even low rated shows on the air if they add value in some other way. Considering the context of "we might not be back after Season 5" Jeff seems to be saying that Teen Wolf's value to MTV is somehow diminishing.
Teen Wolf is the network's highest rated original drama. Unfortunately, that may not be the case this time next year. While MTV's second original, Finding Carter, performed well enough – it didn't catch fire and is in no danger of knocking Teen Wolf off its perch. The next show MTV rolls out just might.
Eye Candy starring Victoria Justice is slated to debut in just a few months (early 2015). Given its mix of "tech crime-procedural and teen drama," the network is counting on EC to be a breakout hit. That could make it a viable replacement if there were no more Teen Wolf.
By the time Season 5 is over, MTV will have another supernatural high school drama ready to go as well. Officials announced today that SCREAM will debut in October of 2015. Again, despite a problem-plagued year and 1/2 in development, the show has potential to replace whatever value the network is currently getting from Teen Wolf.
I would normally tell you that the chances of MTV giving up on our show are nil - mainly because they want to build a legitimate slate of scripted entertainment and they can't do that with just three shows airing 10 or 12 episodes a season. However, Jeff's repetition of the "we might not be back" narrative this weekend shook my resolve and, in my head at least, the odds against a Season 6 are rising.
Ad blocker interference detected!
Wikia is a free-to-use site that makes money from advertising. We have a modified experience for viewers using ad blockers

Wikia is not accessible if you've made further modifications. Remove the custom ad blocker rule(s) and the page will load as expected.