It has come to my attention that this wiki is being cited as the source for some patently false information.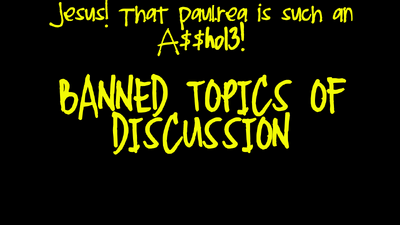 We are supposed to be protecting the canon of the show and yet some among us insist on damaging our reputation by repeating information that they know is untrue.
Therefore, from this day forward mentioning the following things in the comments section will get you banned. These bans will range in length. First time offenders can expect to be off the site for a couple of weeks. The worst offenders will be banned until next season.
This list will be updated throughout the year as new false rumors surface and are disproved. We will re-post it to the front page for each update.
Topics of Concern
Mentioning the following subjects is forbidden:
!. Werewolf Eye Color
With the exception of Alpha Red, Eye Color is random any mention that it might be related to genetics or lineage or that it might indicate that one character is related to another will be grounds for a ban.
2. Delta Wolf
There is no such thing. Any mention of the Delta Wolf will be grounds for immediate ban.
Other banning offences:
1. Racism and Bigotry
There is no definition for racism. It's one of those "I'll know it when I see it" things. This is a site about a TV show about werewolves not the place for a serious discussion of race.
This also covers discriminatory speech against homosexuals. The Danny character has been the main target of these postings but they've cropped up elsewhere too.
I urge anyone who sees postings about race or those invoking racial or other bigoted slurs to contact me via User_talk:Paul.rea.
Sources
Werewolf Eye Color
Our current canon of werewolf eye color comes from Jeff Davis: "We're keeping it mysterious for now. But I think of it like each Jedi has their own color lightsaber."
Until he changes his mind about it - that is the law of the land.
http://fr.twitter.com/JeffDavis75/status/219570368006987777
Jackson is NOT a Hale
We now have confirmation from Jeff that Jackson's mother was not a Hale. Meaning posting stuff about it is no longer theory or opinion it is just WRONG.